Torchlight
80x50 — Promises, Promises
By: Nancy Anderson, Ph.D.
July 11, 2017
At a June 2017 City Council meeting, the Environmental Protection Committee heard testimony from the de Blasio Administration and a host of environmentalists about a menu of new bills related to cutting the greenhouse gas emissions of buildings all around town. This hearing took place a decade after then-Mayor Bloomberg launched his Greener, Greater Building Plan. As such, consider it a marker for what New York has learned about the task of taking aggressive climate action, as well as what's been done to date and what it will take for meeting its legally set goal of cutting carbon emissions 80% by 2050. I'd like to say that effusive talk has led to demonstrable action, but I'm not sure I can.
The programmatic aspirations found in One City Built to Last, the 2016 Progress Report and other de Blasio administration publications, offer up recommended pathways, often spelled out in later Taskforce reports, and a favorite trope of de Blasio Administration reports "program highlights", are not the same thing as actions that advance us along the still long and steep climb ahead to meet 80x50 goals. The Trump Administration stance on climate disruption and mitigation only means the road ahead for American cities won't be getting any federal assistance, but that only makes the need for keeping promises and providing detailed measurements and signposts along the way all the more important.
Doing my homework on programs like the Mayor's NYC Carbon Challenge and the NYC Retrofit Accelerator, seeking information on program participation and how much greenhouse gas emissions are being reduced, along with a look-back at local laws like Energy Benchmarking, Auditing and Retrofitting leave me with warm-hearted impressions. But that's not good enough. What's needed is the firm footing to measure progress to date, whether City government, independent scientists and scholars or the media does the measuring. The only exception is the successful phase out of #6 heating oil, a clear win.
The June City Council hearings sharply focused the need for New York City to make sure its promises are kept. Let's look at three of the bills under discussion: Intro 1629 would update the current Energy Code by requiring new building construction and major renovations to meet efficiency standards 20% greater than those of the current code; Intro 1644 would reward developers of green projects with onsite renewable energy generation (but not other green building strategies), by fast-tracking them in the permit process at the Buildings Department; and, Intro 1632, which would create an energy score disclosure requirement as part of real estate sale transactions, were highlights of the hearings.
While the de Blasio Administration, environmentalists and green building supporters offered detailed testimony, the absence of anyone from the real estate owners', management or financing sectors giving oral testimony should have been one of the most newsworthy features of the day. While one Councilmember made reference to written testimony from the industry that raised concerns about the energy score method stipulated in Intro 1632, that was the only acknowledgement that real estate interests were engaged in impacting the bills under consideration. Go figure.
Intro 1629 is arguably the bill that potentially carries the biggest punch. Any change to the City's building code as it applies to spelling out base line energy performance of all newly constructed structures along with upgrading standards in buildings undergoing certain major and costly structural upgrades isn't optional, it's mandatory. Passive House advocates are big supporters on Intro 1629 because it moves the dial close to the energy performance levels achieved almost alone, by structures built in accordance with Passive House standards, which are a radical rethink of most venerable building and engineering practices. The City of Brussels, Belgium has put Passive House-type standards in place for all its building now, so Intro 1629 is not unprecedented and laws enacted in 2016, put NYC's own municipal buildings on notice that they will have to meet Passive House-type energy performance standards. But does that mean that NYC developers, architects, engineers, building trades and the marketplace be ready to meet Intro 1629's standards by 2025, when they would go into effect?
Expect yesses and no's and maybe-buts and calls for "carrots" will fill hearing rooms and bill negotiations if this legislation moves forward. Concerns about the fine print of metrics, performance standards and costs have been raised and will be debated. Doing that work is not my purpose here. Instead, I want to look at the record and see if innovative laws like Benchmarking and Auditing/Retro-commissioning, along with voluntary programs like the Carbon Challenge and the Retrofit Accelerator are lighting the way for the next leg of the long-march-to-80x50.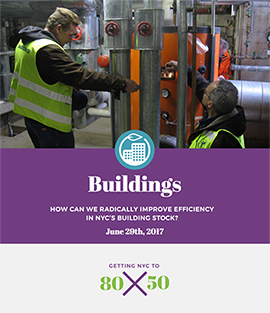 This is where we should get concerned. To date, City government has not provided the sustained, systematic year-over-year reporting on what's been achieved to date and what challenges have become better understood. It appears that the law phasing out the burning of #6 heating oil in boilers around the City (except some power plant boilers) has been a great success and that reductions in overall GHG emissions has been attributed to the end of #6 oil as a fuel in the City. Recent warm winters have also helped. But what about the impact of the other laws and programs?
Getting NYC to 80x50, a white paper written by Byron Stigge and Adam Hinge for the New York League of Conservation Voters, cautions that, despite the City's climate leadership, there are significant "roadblocks in the roadmap" to 80x50 and getting there will require putting an end to burning fuel oil and natural gas by most buildings in the City. According to the authors, the challenges here are not technical, but rather financial in combination with the decades-old construction practices and real estate norms, often rooted in economic drivers.
As keenly observed in a July 2017 Climatewire story, Mayors promise to act on climate. How much can they do?
Assessing the success of city climate initiatives is extremely difficult, experts say. US EPA monitors emissions at the state and facility level, leaving a skyscraper-sized hole in municipal monitoring efforts. Cities have moved to address this in recent years by conducting greenhouse gas inventories, but those efforts often vary by community and are sometimes conducted infrequently.
While anecdotal accounts about the accomplishments of individual NYC buildings is something to cheer, as are the City's energy reporting and energy code upgrade statutes, these successes are being not yet being scaled up to something that can achieve 80x50 or that the pace of market adoption of climate-friendly building strategies is on the way to becoming the new normal. In fact, City GHG emissions levels are, at most, inching down, not dropping at a pace to get us to 80x50. Reporting on the latest available data:
Emissions in 2014 dropped 12 percent since 2005, despite economic growth, an extremely cold winter, and increased population. As outlined in Inventory of New York City Greenhouse Gas Emissions, reductions to date had been almost entirely the result of switching to natural gas in the electricity grid.
This is a problem.
One step toward a remedy and an 80x50 accelerator would be for the City Council to hold oversight hearings and coordinate them with further hearings on the bills first discussed at the Environmental Protection' Committee's June hearing. In this way, the Administration could give testimony that provides extensive, indepth data on how its 80x50 programs are performing and what can be learned from the multiple and growing databases generated by reporting required by the Benchmarking and Audit laws as they apply to privately owned buildings. As well, agency officials should be asked to testify in depth about what's been accomplished in cutting the carbon footprint of municipally-owned buildings. Reaching beyond City government, such hearings would give all stakeholders and experts the opportunity to weigh in on what they deem necessary "to build not just a roadmap, but the road itself", to use Stigge and Hinge's pithy phrase.
So, let's learn from the data on hand and let's get a wide range of views and input informed by expert information on how to move forward rapidly to make the next round of climate-enhancing NYC building and energy laws as smart, agile and effective as can be. There is everything to gain and very little to lose (other than time) in scheduling a set of oversight hearings, ideally starting in January 2018, just after the winners of NYC's November elections take their offices. Who'll support this call for oversight hearings — will you?