Torchlight
More Good Green Jobs For OneNYC
By: Nancy Anderson, Ph.D.
May 09, 2017
With a tip of the hat to Jane Austen, let me tweak her famous observation "It is a truth universally acknowledged, that a single man in possession of a good fortune, must be in want of a wife." Today, "It is a truth universally acknowledged that a liberal big city Mayor must be in want of good jobs for all." I can't vouch that Austen was comedy-free, but I do believe that Mayor de Blasio is earnest in his commitment to good jobs for all as part of his OneNYC mission.
In the Mayor's 2017 OneNYC Progress Report, large print trumpets his credo laid out in the first OneNYC Report of 2015: "I believe fundamentally you can't have environmental sustainability without economic sustainability. Nor can you have economic sustainability without environmental sustainability." This is a good thing to believe, so let's see how this credo is getting expressed in concrete policy and actions.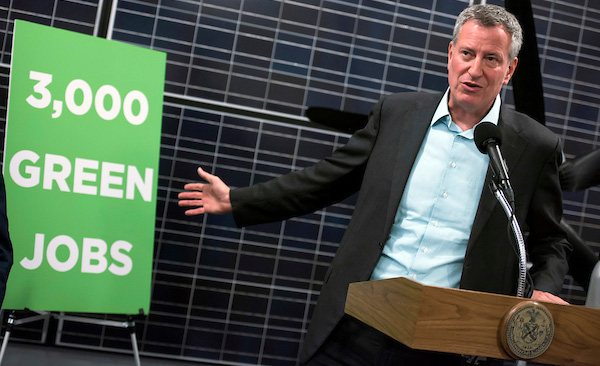 Photo: Ed Reed
Mayor de Blasio announces GJC
In May 2017, I interviewed Daniel Zarrilli, Senior Director, Climate Policy and Programs and New York City's Chief Resilience Officer, to get up to speed about the Green Jobs Corps (GJC), a recently announced initiative for advancing the Mayor's agenda of harnessing together environmental and economic urban sustainability, which builds on experience gained after the City funded an initial 100 Sandy-impacted residents through pre-apprenticeship programming. Here are some facts provided by the City: exceeding its original goal, 209 people have been trained through the Sandy Recovery Workforce and 173 people have entered union apprenticeship programs to date. Graduates have joined the ranks of DC9 Painters, Electricians Local 3, Laborers Local 731, Laborers Local 79, Metal Lathers Local 46, NYC District Council of Carpenters, Plumbers Local 1, Roofers and Water Proofers Local 8, Sheet Metal Workers Local 28, and Tile Marble and Terrazzo Local 7.
The Green Jobs Corps will launch its first pre-apprentice training program this summer with a class of 200 New York residents of various ages. It's worth noting that instead of just being conventionally youth-centric, the GJC embraces the "Helmets to Hardhats" jobs program for military veterans as well as a program for non-traditional career paths for women. Over three years, the Green Jobs Corps aims to familiarize 3,000 women and men with construction work. According to Mr. Zarrilli, the GJC will put graduates on a good jobs "pathway", because successful completion of the Corp's pre-apprentice program, will make graduates eligible for entry into the Building Construction Trade Council of Greater New York apprentice programs, a venerable route to union membership and good-paying jobs.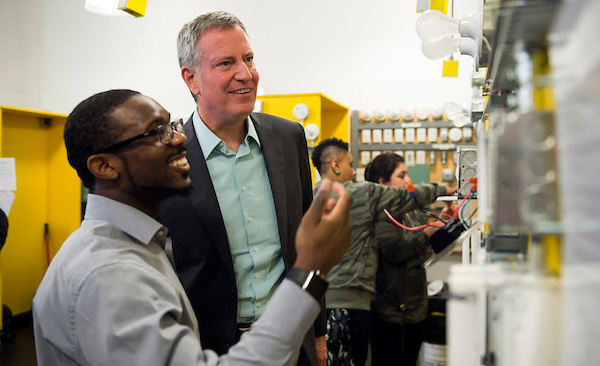 Photo: Ed Reed
Mayor Bill de Blasio visits Local 3
But not just any good-paying construction jobs! The GJC, Mr. Zarrilli emphasized, will provide 3,000 New Yorkers with the skills needed to participate in the emerging clean energy economy. OneCity Built to Last, mapped out the City's goal to cut its greenhouse gas emissions 80% by 2050 and its commitment to "lead by example", by way of its own new construction and major renovations — now required by Local Laws 31/32 of 2016 — at very high performing building energy standards. In addition to its intent to ramp up renewable energy installations around the City, there is a real opportunity at hand for matching people to skills and skills to good jobs.
Admirably, OneCity Built to Last pledged to "Closely track our progress. We will create a Compstat-like portal at the Office of Long Term-Planning and Sustainability, in partnership with Mayor's Office of Operations and DCAS, to track the progress toward our goals and provide a report of our progress each year." Given the relatively small-scale and fixed time frame for the GJC, regular disclosure of data on its performance should be easy to do. Feedback and, if needed, course correction are hallmarks of well-designed public policy.
Yet, even feedback and course correction are not enough if policy aims aren't as big as the problems to be solved. Good jobs for all is a great promise, but if it were easy to deliver on, it would have already happened. It's well known that even low unemployment rates can mask jobs that don't pay a living wage and it's to the Mayor's credit that he's an advocate for jobs that do provide a living wage and offer prospects for steady work. That's why the Mayor should deepen the promise of the Green Jobs Corps and the workforce that's needed to do the work that will be needed to ensure the City meets its 80 by 50 obligations. He should commit City government to hiring all qualified Green Jobs Corps graduates, whether or not they make it into a union apprentice program, so they will receive the City-worker wages and benefits. The work cut out for NYC to become energy efficient, climate sustainable, and climate resilient in every neighborhood is ample. Let's lead by example and start hiring now.