Torchlight
Promising Promises
By: Nancy Anderson, Ph.D.
January 20, 2015
"In Dreams Begin Responsibilities" is a much-admired short story by Delmore Schwartz where the character becomes increasingly agitated in a dream as he watches a film depicting his parents' courtship. Readers are apt to reflect on their own family dramas, hopes and regrets. While, for most of us, the drama of climate change, sustainability and its fierce political struggles is not the same as the family variety, the implicit questions about the choices we make and the responsibilities we incur run deep for both.
As Sallan begins its second decade, it's a good moment to reflect on what promises were made and my sense of what was at stake back in 2005 when Torchlight #1 was posted. Much has happened in the arena of urban sustainability and climate change since then, some of it very good, some of it not, and our responsibilities should press us onward. But, exactly how?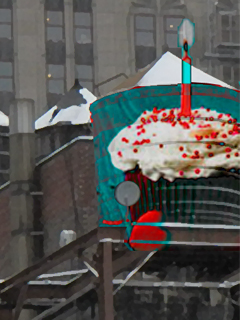 Happy Birthday: Sallan Turns Ten
In Torchlight #1, I wrote of the "sense of urgency about making cities, those centers of people, power, capital and creativity, into working models for living". As well, in a world confronting chaotic climate conditions, risks continue to be widespread, but risk management is not yet adequately harnessed to concerted action. It also remains true today to say that, "In the 21st Century buildings that employ 19th and 20th Century carbon-based power and technologies to light, heat, cool and sustain our computer-driven lives don't make sense and we will not enhance our economy, our environment and our quality of life by pointing to a mere handful of innovations."
Sallan's biannual energy innovation conferences have been dedicated to advancing useful knowledge about feasible and effective solutions for this century. In 2015, we have not fulfilled the dreams of a zero carbon-powered world, but the promises of renewable energy and the "fifth fuel", energy efficiency, are closer to becoming part of systemic realities. Some of us are encouraged, others alarmed, by this evolutionary rather than revolutionary pace.
I hope that Sallan's website is fulfilling its promise to "incubate and broadcast emerging ideas and practices for creating high performance cities" as we continue to grapple with how to make good ideas popular and put them into practice. A decade ago, I was certain that, "What the City's rezoning and redevelopment plans need are templates for high performance buildings that would produce structures which use less heat and power while adding to their value". Who could have dreamed that PlaNYC 2030 would promise to put New York on a path of cutting its carbon footprint (with the current promise being an 80% reduction by 2050), or that the building and energy codes, along with zoning rules, would have been amended in the service of meeting such a goal.
I'd like to think that the Friends of Benchmarking and the White Papers commissioned by Sallan made a contribution toward understanding the energy performance of our large buildings and engaging owners, operators, occupants and investors in the value of making them more efficient. Have energy efficiency and high performance become the new normal? Not yet, but we've come a long way! Is our power supply system still rooted in our grandmas' era? Yes, but 2005 dreams of renewable energy are becoming manifested today in smart grids, distributed power, renewable energy and resiliency. These are becoming forces of change to be reckoned with by utilities, investors and regulators alike. Just look at California and New York, China and India too.
So, dear readers, join me in celebrating Sallan's tenth birthday and stick around for our second decade. With our carbon-soaked past, in a world that is breaking heat records and still addicted to fossil fuels, we must be fortified with our shared dreams for a world of sustainable, vibrant and democratic cities; we've got many responsibilities. As William James wrote, "Act as if what you do makes a difference. It does."