Torchlight
Carpe Diem
By: Nancy Anderson, Ph.D.
February 12, 2014
At a press conference announcing his picks for senior housing agency positions, Mayor de Blasio flagged the need for retooling public housing to make it energy-efficient. The New York Times quoted the Mayor as saying, "It's a total reset". While this embrace of energy efficiency as part of his campaign for significantly expanding the City's stock of affordable housing, is something to cheer about, it will not be a "total reset" because it will be building on the pioneering work of other can-do, affordable housing visionaries. What the Mayor's engagement can do is scale up new construction and rehabbing of affordable homes to make energy efficiency and fuel economy the new normal. He can end forever the critics' claim that climate friendly, energy efficient housing is a luxury American cities can't afford.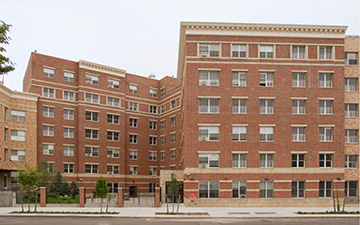 Image: Intervale Green, located in the Crotona East section of the Bronx

To advance along this pioneering path, let's start by looking at some local high achievers. In the Bronx the Women's Housing and Economic Development Corporation (WHEDCO) leads the way with three projects that provide hundreds of units of low-cost housing. One project, which converted a former hospital building into multi-family housing, nearly floundered when monthly utility bills skyrocketed until WHEDCO turned to an energy efficiency intervention that it credits for cutting operating costs and saving the entire project. Since then, WHEDCO has become a true believer in energy efficiency and has brought that awareness and know-how to two of its next projects.

Via Verde is another pioneer. It is an affordable and moderate-income tower and town house complex developed by Phipps Houses and Jonathan Rose Companies that is the winner of a design competition sponsored by the NYC Department of Housing Preservation and Development and the local chapter of the American Institutes of Architects. Via Verde consists of a mix of rental units can co-ops where a one-bedroom unit sells for $134,585.

Chris Benedict, a New York City-based architect, has been designing both technically innovative and energy-efficient gut renovations as well as new affordable housing for some 20 years. One of her newest Passive House-inspired, super-energy efficient projects in Brooklyn's Bushwick neighborhood, sponsored by the United Mennonite Church and the Ridgewood-Bushwick Senior Citizen's Council, costs no more to build than conventional housing. Now she's working on another energy efficient, affordable housing project nearby, which will benefit from a 2013 change in City law that makes it easier to put insulation on exterior building walls. Exterior insulation will also make multi-family building rehabbing easier and less expensive because tenants can remain in residence during the work. As Ken Levenson, a leading local Passive House expert notes, energy efficiency must be "baked in" during construction or rehabilitation. We have the technology and we have the knowhow to bring in energy efficient projects at costs equal or nearly comparable to conventional construction. Now, as our learning curve rises and supply costs decrease, we are well-positioned to make sure that construction costs of high performing affordable housing will not be an obstacle while helping to keep operating outlays down for tenants and owners year in, year out.

Before saying "slam dunk" for energy-efficient affordable housing, a few words of caution. Putting together the financing for new construction or renovations has been and will continue to be complex and challenging. New York is fortunate in being able to draw on the expertise of organizations like the NYC Housing Development Corporation, Enterprise Community Partners, and the Local Initiatives Support Corporation, but aligning the financial resources with the details and execution of housing policies of the de Blasio Administration will be critically important for meeting his goal of creating or preserving 200,000 units of affordable housing.

Adding to New York's ability to structure a financing strategy that makes data-driven decisions about affordable housing preservation is the information already in-hand from annual building energy benchmarking reports required under Local Law 84. This information can offer guidance to affordable housing senior management in allocating capital and expense dollars for making energy efficiency improvements part of building upgrades and equipment replacement. We all look forward to the City's plan slated to be rolled-out on May 1.

With the vacuum created by the disappearance of federal funding for affordable housing, new ideas for project financing are in ferment. Here's one innovative idea for attracting new funding sources: Development Impact Bonds (DIBs). Similar to Social Impact Bonds, DIBs are designed both to attract private investors. According the Center for Global Development, they provide "a new business model for development programs that would encourage the innovation and flexibility or better results that are often stymied by the limitations of government budgeting, contracting and performance management." DIBs are meant to create incentives for investors to provide for "feedback loops, data collection and performance management systems required to achieve desired outcomes", all ideal resources for maximizing affordable, residential energy-efficiency performance.

In his February State-of-the City address, Mayor de Blasio said "Today, new industries are driving an economic future with jobs we could not have envisioned just a few years ago." and he will "pursue a city economic strategy that grows whole sectors of small businesses in emerging industries — from technology, to green jobs... companies that can generate good jobs at decent wages in all five boroughs." This bodes well for emerging energy technology, construction and building maintenance and performance businesses and good-paying jobs all around the City. While some have grown weary of waiting for the surge in green-collar jobs, it could be that now is the time. Let's seize the moment to speed up the City's momentum in cutting its carbon footprint, shrinking its energy budget and showing how cities can be centers of sustainability for all their people.

A recent report "The Role of Local Actors as Energy Efficiency Implementation Partners: Case Studies and a Review of Trends" by the American Council for an Energy Efficient Economy and MIT explores how to transform such aspirations into realities and deliver on promises made by climate activists and elected officials — oh yes, and bring other financial resources to the table. Here are some takeaways: government should facilitate partnerships between local power utilities and energy efficiency stakeholders that operate through both government and community organizations. Effective programs require sound regulations that include non-financial drivers like energy performance disclosure laws and incentives like fast track permitting, financial incentive and local relationships. Programs must be able to demonstrate real value to the real estate industry and local government must have the skills and the resources to establish the rules for making energy efficiency the standard operating procedure in construction and building management. The report highlights efforts of New York, Chicago, Portland, Oregon, Austin Texas, Washington DC and Berkeley, California. This means cities can share what's working well — or not so well — and figure out how to do it better. Certainly, every city will want to see what Mayor de Blasio will bring to the sustainability agenda as he presses for a city that "belongs to all the people."