Torchlight
Energy Auditing In San Francisco: An Owner's POV
By: Nancy Anderson, Ph.D.
July 08, 2013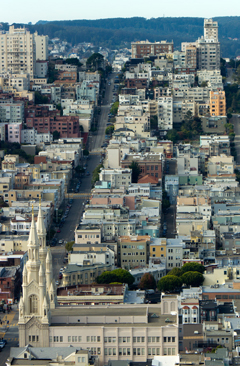 Writing in The New Yorker about recent fiction that uses climate change as the plot device, the reviewer makes this chilling point, "Today, novels that would once have been called science fiction can be read as social realism."
Since "Torchlight" columns are restricted to non-fiction, I jumped at the opportunity to peer into the climate-action future, by interviewing the owner of two San Francisco commercial buildings who has just completed her first energy audit reports. San Francisco is a just one step ahead of New York City in its campaign to cut its carbon footprint with a law requiring owners of some 3,000 buildings to conduct in-depth energy audits of large buildings every five years and make menus of cost-effective building upgrades and retro-commissioning options. The goal of the law is to improve the energy and resource efficiency of buildings as part of meeting the city's greenhouse gas reduction targets and New York City is gearing up to follow this West Coast lead.

Felicia Woytak, managing owner of these center-city buildings, hired the Carbon Lighthouse, an energy efficiency consulting firm, to prepare the audit reports required by local law and submit all required material to the city. My discussion with Ms. Woytak aimed at answering the question: "What is the impact of building energy audits on an owner's decision about improving the energy efficiency of her property?" As is true in most spheres of life, becoming informed is important, but the relationship between information and taking action can be complex. Here, the context for taking action is influenced both by facts specific to the buildings in question and also by the action requirements defined by the law. For both San Francisco and New York City, laws requiring such audits and retro-commissioning menus are bold policy innovations. Still, both cities rely on the untested assumption that once building owners are informed about their building energy use, they will prioritize the benefits of improving their asset's energy efficiency.
Ms. Woytak spoke enthusiastically regarding what she learned about her buildings from the audits; both buildings rate high as energy efficient performers and could qualify for Energy Star. Both buildings are master-metered, so the audits were able to capture the electric use of all the tenants. In one building floor-by-floor meters allowed for a finer-grained level of analysis. Boilers for heat and domestic hot water are part of the building's basic system, so accurate fuel consumption data is in hand. She plans to adopt audit recommendations to replace fluorescent lights in common areas with LEDs. As well, she's now considering whether to adopt virtually all the audit recommendations related to timing controls for building HVAC equipment. For Ms. Woytak, it's good to have smart building systems, ones able to pull in cool morning air to help with keeping things comfortable in the heat of the day. Controlling the hours that building equipment is in operation is also a smart way to save on wear and tear and thus cut down on capital costs for equipment replacement. Deciding what to do about recommendations such as putting a film on west-facing windows is a longer-term prospect; recommending that tenants use existing blinds to control light and heat levels is the best course of action for now. Rooftop PV is also something that's not at the top of her to-do list given the scope of currently available incentives and the quantity of solar power output given the size of the available roof space.
To pay for the lighting upgrades, improved HVAC controls and equipment repairs identified in one building, with a twelve year energy savings of $257,633, Ms. Woytak outlines two options: first, participating in an on-bill finance and repayment program offered by the local utility, Pacific Gas & Electric. One plus of this approach is that the loan is not considered a capital expense. The second option is up-front financing arranged by her audit consultant. Each option is attractive, but in either case, how to calculate and operationalize benefits to tenants resulting from improved energy efficiency, has yet to become routine. For now, Ms. Woytak is confident in the energy savings predicted by her audit consultant and calls them more conservative than the local utility's own predictions.
In her buildings, which are too small to justify on-site operating staff, smart and reliable automated control systems might the way to go later on. Ms. Woytak would be open to installing some automated building management system devices if she could identify a nearby building to share both the system and its costs. Ultimately, her decision-making is rooted in calculations of up-front costs, long term layback and the challenge of executing a given energy efficiency upgrade. Like other expense and investment decisions, her energy-action choices will be determined by a building's long-term prospects, which can include external trends like whether the neighborhood suddenly gets hot (not in the climate change sense).
Of course, like any landlord, she does not have final say over how much power individual tenants use, so their "plug load" does remain a concern and if a space leased to one tenant who vacates is replaced by three tenants in the same space, that will also have an impact on the building's total energy consumption relative to its performance and savings targets. It's worth noting that for Ms. Woytak, re-leasing can also be an opportunity to undertake efficiency upgrades like occupancy sensors.
When our discussion turned to expectations of how her energy efficiency upgrades might affect building value or leases, I was in for a surprise. For Ms. Woytak, attracting or retaining tenants were not at the top of her list of reasons for making energy upgrades. She's not certain that tenants, even climate-conscious ones, or most San Franciscans' actually know about the energy auditing law or its implications and she would like to see both City government and local media promote it more. She is certain that more public awareness will help with market transformation.
To wrap-up, I asked Ms. Woytak for recommendations to enhance the impact of San Francisco's building energy audit law. She had two proposals that seemed as pertinent to New York as to San Francisco. First, the city should devise smart, effective "carrots", — financial incentives for building owners to act on audit energy efficiency improvement recommendations. Second, cities with audit and retro-commissioning laws need to do more than amass reports. They should actively study the audit reports and systematically follow up with property owners to see which recommendations they adopted, or didn't and why. Good policy, like good enterprise needs to keep asking why, what, and how to make use of information. After all, shouldn't we expect local laws that are the foundation of a city's climate action plan be rooted in robust assumptions and tied to experience in order to improve the chances of meeting their goals? That's how we learn to manage our affairs.