Torchlight
The Data-Driven Built Environment
By: Nancy Anderson, Ph.D.
June 27, 2012
Today, benchmarking building energy performance is the law in leading US cities and the real estate industry is turning to metrics to validate building performance and establish market value. Let's be clear about why this matters. The effort to acquire meaningful building energy data is grounded in the proposition that good energy performance data is essential to good enterprise management and public access to systematic performance data matters, when it comes to putting data to work.
Driven by innovation in energy efficiency and the effectiveness of building technologies, this data revolution could transform marketplace dynamics, but what does this data mean and how much is it worth? More specifically, how does data about building energy performance become a value proposition for high performance office towers? Today, commercial building owners and tenants in New York City have begun to answer these questions very concretely through the terms of leases they negotiate. At the same time, a scholarly analysis of data coming from the City's Benchmarking Law, is yielding some surprises about which office buildings are the best energy performers.
If you missed the May 2012 conference, Implications of A Data-Driven Built Environment, organized under the auspices of the New York Academy of Sciences, here's my recap of a panel that focused on the city's office towers.
Speakers agreed that the best time for commercial property owners and business tenants to grapple with energy efficiency is during lease negotiations. According to John Gilbert Executive Vice President, COO and Chief Technology Officer of Rudin Management, the challenge is not energy availability, but building energy management systems. Today, even older buildings' make-overs can incorporate lighting, air conditioning and heating systems that can be remotely controlled from an iPad. This means both management and occupants can have smart building tools never before available, although this can be more complicated in office towers than in apartment buildings. Still, energy-aware business tenants can be equipped with the ability to measure and mange their energy consumption by way of upgrading their electric meters that provide consumption data.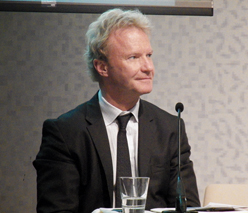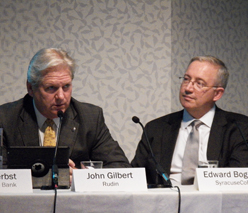 Ron Herbst, Global Head of Energy and Sustainability for Deutsche Bank made it clear that renting energy and carbon-efficient premises is a corporate value, which creates new kinds of partnerships with building owners. His own work includes the annual management of 30 million data sets in pursuit of DB's carbon reduction goals and he also makes use of third party validation of the energy data measurement systems because Deutsche Bank wants to "walk the talk". Herbst summarized the bank's green lease principles: measure, operate and change. The outcomes are energy benchmarking and savings, identification of trends and predictions. With offices around the world, the bank has centralized its lease-management systems and in Europe it is driving the scale up to "industrialize" energy efficiency in its rented spaces. In turn, DB takes what it learns from its own energy efficiency experience and then applies it to its business investments. Herbst answered the conference question "what is data worth?" in two words "A lot!"
Ed Bogucz, Executive Director of the Syracuse Center of Excellence underlined the goal of matching upstate research and development and manufacturing capabilities with New York City's markets and assets, building design, construction, finance and media. His Center provides a 55,000 square foot test bed for all kinds of building energy technologies and applications. This is where new energy efficiency applications can be put through their paces and primed for real world applications. For example, NYC is the best place to tackle the ravenous energy appetite of data centers by developing facilities that run on combined heat and power (CHP) and go a step further by using server waste heat to power chillers for cooling. It's a killer app for New York City with its high-priced electricity.
During the discussion moderated by Greg Hale, Senior Financial Policy Specialist at the Natural Resources Defense Council, attention turned to defining the core business value of energy efficiency. His working postulate was that "high quality tenants" seek out buildings where they can get the most value and speakers agreed with this. As well, looking at the value of energy efficiency from the commercial tenant's perspective, he sees qualitative values related to workplace conditions. Deutsche Bank's Ron Herbst agreed. He pointed to the importance of indoor air quality in "green" buildings as measured in worker satisfaction surveys as well as the energy efficiency of data centers as measured in "power densities" for the data-dependent banking industry. Nevertheless, the Bank's Chief Financial Officer does not put a monetary value on these building qualities nor fund useful revenue models for building energy efficiency, which means energy efficiency project approval rests solely on a platform of energy savings.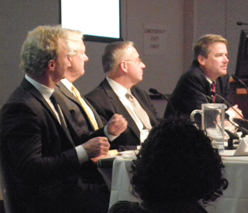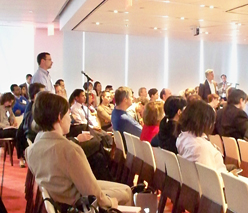 Hale made the case that tenant demand is important in driving a building's performance. His argument relies on work the Natural Resources Defense Council's Center for Market Innovation is doing with a number of large and medium-sized commercial tenants to fit-out new premises with a set of energy efficiency measures that makes sense for them. Critical here is the analysis of projected energy cost savings that would be derived from a menu of fit-out performance measures, coupled with an estimate of the incremental up-front costs of installing those measures. Mr. Hale also emphasized the importance of staying involved during implementation and occupancy to measure the actual energy performance of the new space. NRDC will wind-up its project contribution with case studies of the actual energy outcomes in order to lay the groundwork for future efficiency projects.
The discussion turned next to the value of building certification programs like LEED and Energy Star. For the Rudin Company, when office buildings have tenants who rely on data-centers, the building's Gold or Platinum LEED features don't always get reflected in their Energy Star ratings. This gap is "frustrating for us", and the metrics for label certification is problematic, noted Gilbert. To illustrate, he flagged a 1955 building that is the most energy efficient building in the company's portfolio and insisted that performance is linked to what the tenants do in the building.
What about the impact of New York City's upcoming "Mayoral Energy Challenge" to major commercial tenants? asked Hale. Ron Herbst tipped his hat to Mayor Bloomberg's efforts with C40 Cities and PlaNYC, and the desire for Deutsche Bank to be seen as an active partner. For the Bank's own offices, it is worth creating tenant fit-out standards and these could be sparked by a design competition and award. However, more generally, different tenants keep different hours, some are 9-5, others are not so this would make setting an across-the-board standard for procedures like allocating cost shares of HVAC to landlords and tenants quite a challenge. Following on this, a proposal was made for conducting a census of New York City business types for the purpose of standardizing calculations about energy management, and it was noted that the City's Benchmarking Law does collect some data relevant to this task.
To wrap-up the panel discussion about the value of standardized building performance metrics, the moderator solicited an assessment of the value of developing a "Tenant Star" energy-rating program and the panelists offered some support for this concept. The panel concluded in agreement that performance data transparency is key. According to Ron Herbst, such transparency will be important for the development of financial products by means of which investors would get paid out of a revenue stream from energy efficiency savings. By creating applicable metrics to establish a history of energy data, it's "doable". Now, let's see how doable marketplace and public access to systematic performance data will be.