Torchlight
A Glass Act
By: Nancy Anderson, Ph.D.
March 05, 2009
While most public attention on big-city, high performance building is drawn to new construction with its emphasis on glassy, transparent facades, experts and climate advocates are raising penetrating questions about whether fashion and consumer demand are overshadowing more sustainable building design.
Buildings with glass skins proliferated and became icons of modernity decades before concerns over climate change and the geo-politics of oil and natural gas became defining issues of our time although New York's late-lamented building boom made it transparently clear that shrinking the carbon footprint and easing the energy demands of our built environment simply weren't market-transforming forces. Even the impact of LEED, Energy Star, and other standards of high performance architecture exist more as the exceptions than the rules in our built environment. But a March 2009 panel at the New York Academy of Sciences shone a bright inquiring light onto the possibility that it's time to retire the glass-facade building as both icon and business-as-usual. The panel delved into questions like: can glass buildings be comfortable for occupants without the need for additional energy-intensive mechanical systems? If a glass facade building can meet current energy code requirements, is there a problem with the energy code? Do building professionals see emerging glass technologies that can cut deeply into building energy use? Put bluntly, can any glass building be green enough?
Since New York's historically mixed building stock hides some great lessons in green architecture in plain sight, the Sallan Foundation asked several thoughtful observers to nominate their favorite green buildings constructed over the last century.
Rick Bell, Executive Director of the New York Branch of the American Institute of Architects gave kudos to the lower-Manhattan Municipal Building, opened in 1913 and the 21st century's 4 Times Square. Just what is it that makes these buildings outstanding? According to Bell:
The Municipal Building is outstanding from an energy perspective for four reasons:
large operable windows with angled dust and wind guards at the base that encourage people to actually open the windows
operable transoms over the hallway doors, which encourage natural cross ventilation between what in many other more modern buildings are completely isolated spaces
a million square feet of office space for elected officials (the Borough President and the Comptroller among others) and bureaucrats (including the Department of Citywide Administrative Services and its real estate operations, which presumably could be anywhere); the construction of this huge "back office" space helped to prevent the demolition of the 1812 Joseph Mangin-designed City Hall, saving energy in the best sense of the word.
intermodal transit access — the building still sits atop three subway lines, with the City Hall/Brooklyn Bridge stop stairs literally coming up into the open South Arcade of the building; when the building was new, and until the early 1960's, the Brooklyn Bridge ramps also were accessed through the monumental arch at the end of Chambers Street. Many also remember the adjacent elevated subway line located near the present location of the Police Headquarters Building by Kelly & Gruzen. Intermodal public transit connections in a thirty-two story tower with a million square feet — way ahead of its time! Its surrounding sidewalks were also, reportedly, the first New York use of concrete as a sidewalk paving material.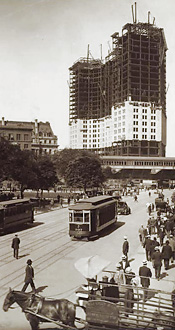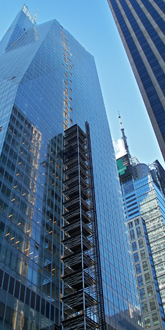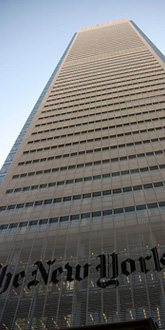 4 Times Square, also known as the Conde Nast building, by Bruce Fowle, FAIA is distinguished by more modern energy saving characteristics, which have become routine in later nearby buildings from the Times Tower (FXFowle and the Renzo Piano Workshop) and the Bank of America Tower at One Bryant Park (Cook + Fox). Glazing, mechanical systems and controls, solar shading - the Green Giant was a harbinger when completed of things to come. As such it was what could be called an iconic or transformational building, one that set a pattern that others were to follow.
Energy engineer Adam Hinge named the 1940's Stuyvesant Town apartments as his top pick. Starting with an overview of local construction over the last century, he focused in on a legacy of building envelopes that offered good day-lighting with windows that opened and were deployed to provide natural cross-ventilation. As a thought experiment Hinge envisioned a customer satisfaction survey in the iconic Flatiron building to see if renters were happier before or after building renovations. In this context, he made the telling point that before the era of modern electric lights and air conditioning, architects were able to make building occupants comfortable. From a compatible perspective, Pratt-based urban planner Eva Hanhardt saw the need for a "local industrial archaeology" study. Such research would contribute to a richer understanding of architectural practices and transformations, as New York grew bigger and denser, by pinpointing the shift away from locally-manufactured building materials like stone, terra-cotta and brick to more energy-intensive materials like iron and steel.

Reflecting on his Stuyvesant Town choice, Hinge praised its architects and engineers for designing apartments that were high quality, affordable and relatively simple to operate and maintain. After World War II, energy wasn't cheap for consumers, so energy efficiency in heating, cooling and lighting was an important design goal. Hinge wasn't willing to put a newer building on his list because he would need at least five years of data to see which green buildings were best able to deliver on the promise of energy efficiency and a smaller carbon footprint. As it now stands, the US Green Building Council's LEED green ratings for new building are based more on design promises than actual performance. This means there is much to learn about the performance of green buildings opened over the last decade.
Green, affordable-housing architect Chris Benedict also insisted on the pressing need for data on the energy performance of the City's building stock, but she took a different tack in responding to the question what are your two favorite, greenest, most energy efficient buildings in New York City that have gone up in the last 100 years?
"My favorites are buildings that elegantly and beautifully meet the needs of the people and processes within them... while using the least amount of energy to meet the loads created by the use of the building. While the first part of my criteria is subjective, the energy use is calculated from a building's energy bills, divided by the square footage of the building. This calculation yields a number that can be compared to other buildings of the same use. Since energy bills are not made available to the public, even by the owners of "green buildings" in New York who make energy efficiency claims, I don't have enough information to choose two favorites!"
Let's be clear. Modernists and supporters of high performance buildings with transparent facades should not be thin-skinned about praise for buildings clad in stone, brick or terra cotta or misconstrue the views of Bell, Hinge, Hanhardt or Benedict. Each is a forceful proponent for making much more green architectural progress. For Hinge, energy audits of green building developments like Battery Park City would provide bundles of useful information on what new buildings are doing right. He's a supporter of energy efficient window replacement and on-site recharging plug-ins for hybrid cars. His to-do list also includes developing storm water reuse systems and better water conservation appliances. The education of staff and residents to support the long-term operations and management of green-designed buildings is another must.
Here is Bell's top-ten list of things to do or try for energy-reducing retrofits of existing buildings:
light bulb replacement, compact fluorescents are cheap and easy
motion detectors to limit artificial illumination to areas where activity occurs
window replacement
increased wall insulation, exterior if possible, interior if existing finishes can be maintained
roof replacement with lighter colored materials or with accessible green roof
green wall exterior additional cladding, which can be vegetation on framing systems that would not be considered as additional floor area for zoning purposes
stair prompt posters to encourage people to "burn calories, not electricity"
stair cosmetic redesign to encourage people to feel that emergency egress fire stairs can be used for normal everyday access
magnetic hold-opens on fire doors linked to fire alarms and smoke alarms so that people are encouraged to use stairs, not elevators
a ban on escalators such as those continually guzzling energy in such lobbies as that of the Hearst Building
and, one more for good measure:
drill wells, like we did at the AIA's Center for Architecture, for a closed-loop geothermal system for both heating and cooling; get rid of the need for cooling towers and petroleum based mechanical systems
Benedict writes about two distinct but interrelated moves that top her list for energy retrofits in pretty much any type of building in New York City. "The first is retrofitting the mechanical system to have room-by-room thermostatic control and the second is to create an air barrier around the building. Energy use for heating and cooling cannot be managed without these two fundamental moves. Once they are achieved, appropriate decisions can be made about how, where and what kind of insulation could be installed, or if the insulation itself can be the air barrier. Some may balk at the extent of the work required to achieve these moves, but the survival of New York City will rely on creative, holistic, inventive solutions that economically incorporate them."
This Torchlight's small gallery of favorite high performance buildings, its caveats about what's still unknown and pointers to the work that lies ahead should serve as a reminder that there is no sign yet of the Mayor's legislative Deep Green Quartet that could forge the public policy instruments able to beef up what we know about the energy performance of New York's 950,000 existing buildings and apply that information toward upgrading their energy performance and shrinking the City's carbon footprint. In the same vein, local climate and high performance building advocates are eagerly awaiting release of the recommendations made by the "Greening the Code" Working Group hosted by the New York chapter of the US Green Building Council.
I'd like to end my Glass Act with a nod toward two great European glass innovations. First, the 1840's Parisian arcades immortalized by Walter Benjamin, with their glass roofs spanning narrow streets that invited strollers in and plate glass windows that tempted strollers with a view of goods for sale. While these 19th Century passageways could not be called buildings, they were early signs of the consumer culture still dominant today and the trophy towers to come, exemplified by the thin-skinned Seagram Building of 1958. With thanks to urban sociologist Christina Spellman, Milan's Galleria Vittorio Emanuele opened in 1877 gets my second nod. The Galleria expanded the scale and lavishness of the Paris arcades and was prominently situated in the heart of the city between the opera house and the cathedral. Walking through the Galleria today resembles a promenade through the lobbies of contemporary glass-skinned towers in Manhattan or any global city. Only now, their iconic nature may be rendered ironic in a century that will be defined by climate change and the geopolitics of energy resources.

Note: Sallan wants to curate a bigger selection of high performance buildings. Send us examples of your favorites of the last hundred years and briefly explain your choices. We'll post them.