Featured
The Municipal Art Society of New York — A Peek Inside Manhattan's Garment District
Sallan Tours Garment District With MAS
A Message from MAS President Elizabeth Goldstein which was originally published on the MASNYC website
The city has changed substantially since my childhood. When my dad schlepped us down from the Bronx to look at the architecture of what is now SoHo in the early 1960s, the cast iron beauties housed manufacturing of all kinds. Now the neighborhood has passed through the "artist live/work and gallery" phase and the "lofts and cool independent shops and designers" phase to the "Apple store and tourism" phase. Who knows what comes next.
But the Garment District, despite having gone through its own transitions, still feels strikingly the same. It is a humming, buzzing web of folks who rely heavily on each other to do their day-to-day business. I am not the only one who has had a secret desire to get behind those doors and see what's going on in there.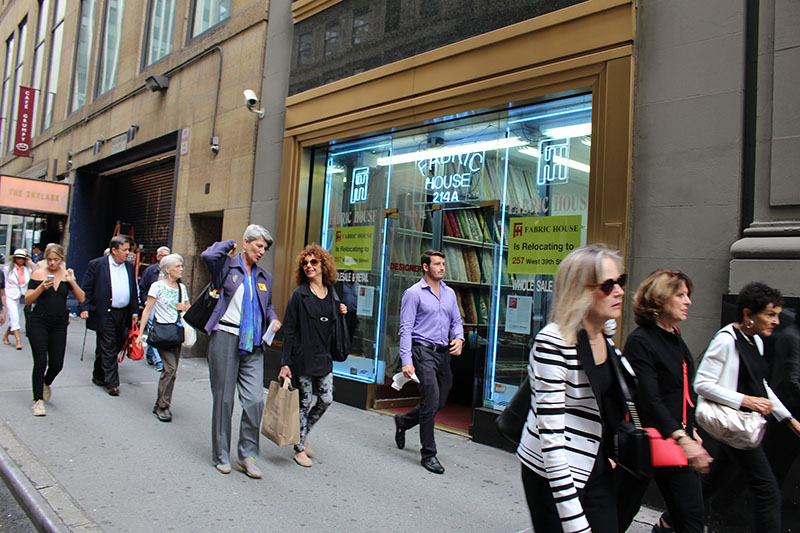 Photo Credit:
MAS
MAS tour-goers visited notions supply store Steinlauf & Stoller, Inc., which has served New York's garment industry since 1948. MAS has been monitoring a controversial new proposal by the New York City Economic Development Corporation and Department of City Planning that would remove the zoning protections for manufacturing space in Manhattan's Garment Center.
As part of our advocacy, MAS led a series of walking tours on July 26 that brought New Yorkers behind the veil of this neighborhood's bustling ecosystem. In partnership with Nina Rappaport of Vertical Urban Factory, we visited fabric buyers, notions vendors, manufacturers, designers, and more, witnessing firsthand the creative energy of this cherished, diverse, and eminently "New York" industry.
Nancy's takeaway from the Municipal Arts Society garment district factory to runway walking tour with MAS President Elizabeth Goldstein — keep NYC's carbon footprint small and jobs big with local manufacturing.