Blog Comments
New York Times Dot Earth Blog
Does Climate Change Risk Misperception Matter?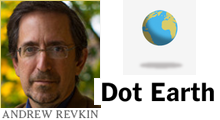 Risk communication consultant and author David Ropeik takes issue with Andy Revkin's TEDx talk on 'inconvenient minds' and the immense problem of mobilizing political action on climate change. Revkin publishes their communication on Dot Earth and comments pour in.
Nancy Anderson charts a course of action — better building and energy efficiency codes.
---
Anderson's comment
Mr. Ropeik eloquently tackles one of the big climate action questions of our time: where are the levers of large scale, effective change? Rather than responding at the broad-brush scale, let me point to one specific action area where public policy is determinative: better building and energy efficiency codes. Codes set the "bottom line" for construction, renovation and equipment performance, but can we expect continual improvements without public reward for action and punishment for inaction? I doubt it.
---
David Ropeik, Your Irrational Brain
---
Andy Revkin's TEDx talk in Portland 2014