Blog Comments
New York Times Dot Earth Blog
Where's the List?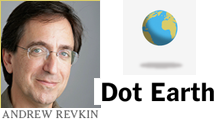 Andy Revkin is traveling in Asia while Nancy Anderson keeps the home fires burning. Revkin's post Countdown to a Hotter Climate — Tropics First pivots from the timing of climate changes to an end run around the grid. It is the end run to which Anderson responds.
Beth Gardiner's update on the decentralization of power generation harkens back to Superstorm Sandy.
---
Sandy — it's a year later, but where's a list of ALL the NYC properties that kept the lights and heat on because they had micro grids or combined heat & power systems? NYU is the poster child, but who else? We need to know in order to determined what worked and why based on more than one shining star.