Noteworthy
Friends of Benchmarking Website Goes Live
Knowledge Saves Power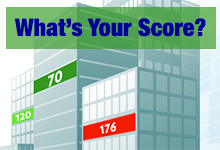 Did you know some New York City buildings are seven times more energy efficient than others? Want to know how big your building's energy appetite is?
Visit the newly launched Friends of Benchmarking website KnowledgeSavesPower.com to find out how your building stacks up.
Chicago jumps onboard with energy benchmarking — the Chicago City Council passes the Chicago Energy Use Benchmarking Ordinance on September 11th, which will give the public access to energy efficiency data for buildings over 50,000 square feet.