Our Back Pages
Ratepayers On the Hook
Tracking Moral Hazard
Grappling with the financing for twin nuclear reactors under construction in Georgia, back in 2011 we flagged risks to ratepayers in case of construction cost overruns or delays.
In March of 2012 we brought attention to former foes fighting Georgia Power to stop the utility from using a "novel theory" to snooker ratepayers. Former Gov. Roy Barnes and former Georgia House Speaker Glenn Richardson accused Georgia Power of illegal collection of taxes in Fulton County Superior Court.
The Washington Post just reported — almost a year to the day later — that local ratepayers could be on the hook for nearly $900 million due to a contractor who "put too much space between steel rebar in the foundations at the heart of new new reactors".
---
The Washington Post Article Excerpt:
The NRC has also been keeping an eye on a pair of new reactors the Southern Co. has been building at its Vogtle complex in Georgia. Financing costs were lowered sharply by a promise of a federal loan guarantee by the Obama administration and by a Georgia state law that allows Southern's subsidiary, Georgia Power, to pass much of the cost along to ratepayers while the plant is under construction. Most states require a power plant to go online before customers have to pay for it.
Within months, however, Southern said that as much as $900 million could be added to its subsidiary's share of the $14 billion cost. An industry consultant, who requested anonymity to preserve his business relationships, said that the contractor put too much space between steel rebar in the foundations at the heart of the new reactors. To resolve the problem, Southern said it created a 1,000-cubic-yard "mock-up" of the site where concrete would be poured.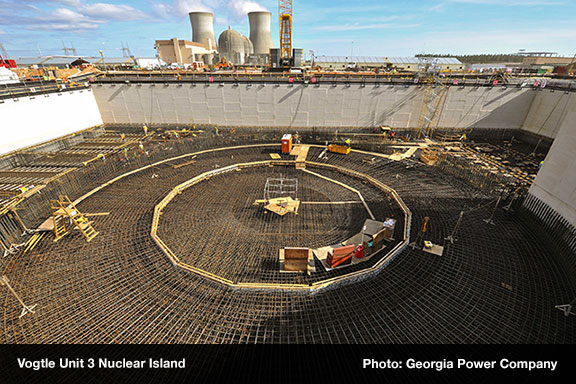 Works Cited:
Mufson, Steven. "In U.S., Nuclear Energy Loses Momentum amid Economic Head Winds, Safety Issues." Washington Post. The Washington Post, 11 Mar. 2013. Web. 14 Mar. 2013.
Anderson, Nancy, Ph.D. "Moral Hazard." Sallan.org. The Sallan Foundation, 25 Jan. 2011. Web. 14 Mar. 2013.
"Former Governor and House Speaker Say They're Davids Taking on Goliath Georgia Power." Jacksonville.com. Associated Press, 19 Mar. 2012. Web. 14 Mar. 2013.