Friends of Sallan
Social Media Week New York
Turning Up the Heat on Climate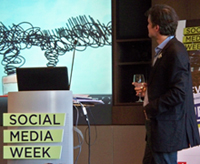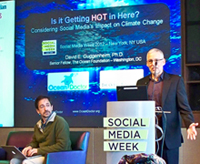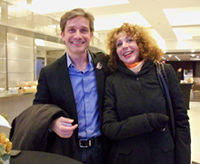 Nancy Anderson aka @Sallan_Found put the social back into social media and dropped in on an event hosted by Thomson Reuters, to consider the pivotal role social media plays in shaping opinion with regards to climate adaptation.
In the first few minutes US Guardian, editor in chief, Janine Gibson put out a question based on the traffic stats from the Environment site at the Guardian — one of the most read in the world — that wasn't followed up on by any of the panelists.
The stories that go viral, take off and are widely disseminated via social media, appear to be counter intuitive climate stories such as the recent, The Himalayas and nearby peaks have lost no ice in past 10 years, study shows.
If counter intuitive climate stories tend to trend on social media, that's an indication of something... in this instance the eco audit with Leo Hickman traces the Himalayas story as it rolled out through out the day and reaches a verdict of sorts.
The event never really delved into the topic of dealing with how social media influencers could marshal forces beyond the sum of the individual contributions already being made.
Check out the lively discussion led by @janinegibson, amongst @OceanDoctor, @FCousteau and @Revkin on the Livestream archive of the live event.