Interviews
GlobeSt.com
No Stopping It!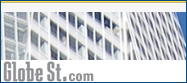 Experts: Downturn Won't Stop Green Movement
By Paul Bubny NEW YORK CITY — The greening of real estate may be the wave of the future, but is the business case for it still viable in the tough business climate of 2009?
At a panel organized by Schulte, Roth & Zabel, Sallan's Nancy Anderson agreed with real estate insiders — there's no going back. Green, energy efficient building will become New York's new normal.
Article Extended Excerpt
Douglas Durst, co-president of the Durst Organization, was a key figure in the retreats and brainstorming sessions that culminated in 4 Times Square. Given that know-how of green building practices is still being acquired, sometimes on a project-by-project basis, he said the most useful step New York State could take in promoting sustainable real estate would be to establish a depository of information on the subject. "It could be easily done and would be extremely helpful."
Nearly 15 years separate 4 Times Square and 1 Bryant Park, and green building has evolved in that time. Asked whether older eco-friendly projects are in danger of becoming obsolete, Douglas Durst responded that it is a concern but "that's true with any technology."
As yet, the Bloomberg administration's PlaNYC, the sustainability program announced by Mayor Michael Bloomberg on Earth Day in 2007, hasn't been codified into actual laws. However, that's changing, said Nancy Anderson, founder of the Sallan Foundation. The revamping of the city's building code is one example, as is the fact that the code will now be updated every three years rather than once in four decades, as was the case before PlanNYC. Read Paul Bubny's article »